At this point it seems like a recall should have been mandatory. Sticky this so everyone doesn't make their own thread every time this happens. These are only the ones whove posted up, let alone all of the ones on FB. When posting include:
Year
Miles when replaced
One or both turbos
Mods
Boost
Oil weight
Oil change interval
Found a DIY rebuild kit for those interested: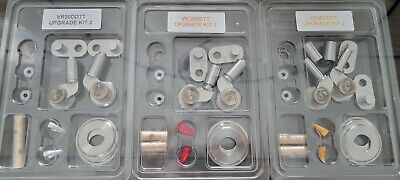 Garrett MGT1446z turbo rebuild kit. 2016 - 2022 INFINITI Q50/Q60 VR30 TURBO REBUILD KITS. KIT INCLUDES THE FOLLOWING UPGRADED WASTEGATES. UPGRADED OIL SEAL RINGS.
Another option from another member on here:
VR30 Wastegate Relearn Procedures for those who replace their own turbos.
Per the service manual you can't just replace the wastgate on a VR30 and if it malfunctions it's likely a new turbo. As much as the FB groups irritate me, I came across this procedure. HP Tuners or Ecutek both have wastegate position so you do not need a Consult to use this. VR30 Turbo...
www.infinitiq50.org
____
q50adix
Year - 2016
Miles when replaced - 35k but it's been leaking since several thousand miles ago
One or both turbos - One...updated to both
Mods - HX
Boost - Stock
Symptoms-
I noticed the oil since the first time I changed the air intake filters but disregarded it (I thought it was due to blow-by oil on the right side)
Over 25k miles later, time to replace the air intake filters again and I saw significant oil pooling on the same spot on the air duct
Tech confirmed it's from the turbo as there was no blow-by oil he found on that side
____
Helterstupid
2017 RS 400
Turbo replaced @ 15000 miles
symptoms: running very rich, power loss, poor gas mileage
bone stock
__
MapleDom
44k miles, LDP, JB1 @+3.
17 RS.
__
JakefromLI
13k miles, full downpipes, ???
2018 Platinum Graphite Q60 AWD
___
Q50-Joaquin
2016
Around 49k
Both turbos
Stock no mods
____
TJQ50
16 Q50
Both turbos replaced at 55k miles
Had rattle noise on start up. No other symptoms... Diagnosed as bad waste gates.
__
[email protected]
17 Q50
Both turbos at 38490 miles
Other warranty work being performed (fuel injectors) and tech noticed oil in both turbos.
__
5oh_mo
17' RS
Both turbos replaced at 48K miles
Bad wastegates that I diagnosed when chasing down an exhaust rattle, replaced with R/T turbos. no issues since.
___
Emantresni
2017 Premium
57,000 Miles
Bone Stock
(Believe it's one turbo, but I plan to call tomorrow to push for them both as I'm not exactly excited about replacing the second on my on dime should it fail)
Metallic grinding, clicking/ticking noise above 2,000RPM noticed on cold start up while the car was getting to temp.
____
Yifei
2016 3.0T premium
1. I heard weird sound from my driving belt.
2. I checked the coolant level is low.
3. Another symptom is the MPG is so low at around 12.7 MPG.
So I sent to dealership. They replaced both of turbos and oxygen sensors. I looked at the invoice they provided me. The total cost for parts is 4700$ without labor. I'm so glad my car is still within warranty. I do not need to pay for any.
--------------------
Bapmax
2018.
24000 miles on odometer.
18lbs boost to hear whistle but no whistle at stock levels. Rattle at start up was the key.
Both turbos replaced.
Covered under warranty.
__
Nleiner
2016 Q50 Silver Sport
40,500 miles
Only modification is a muffler delete.
Both turbos replaced.
Squealing and increased turbo sounds
-------------------
Nickdaria
Year: 2016
Miles: 29500
Both Turbos
Mods: Just a high output alternator for the subs. Nothing serious.
Process was really easy. Brought car in for a separate warranty repair (front windows were slow) and mentioned the wastegate made a loud noise. He said they listened to it and agreed it was louder than usual so they are replacing it for free.
-------------------------
Q60Khan
2017 q60
55k miles
Both turbos
Mods:
Muffler delete and LDPS all bolt ons no cuts or welds.
Services only done at the dealership tho.
--------------------
GTA-RS400
Year: 2017
Miles when replaced: approx 27 000 miles / 44 000 km
One or both turbos: both
Mods: none - bone stock
Boost: whatever factory settings are
I've recently been hearing a barely-audible squeal between 2500 and 3000 rpm. Only starting hearing it as the weather started improving and having windows down frequently.
__
Frodawg78
Year: 2017 Q50 3.0T AWD
Miles when replaced: 36700 miles
One or both turbos: both
Mods - None
Boost - Stock
Stopped by dealership thinking I had belt issue with squealing noise. Turns out both turbos are on their way out.
Both turbos will be replaced under warranty. Waiting on turbo order from dealership, should be about 2 weeks.
---------------
Tony Turbo
Year: 2018 Q50 3.0T
Miles when replaced: 16000 miles
One or both turbos: both
Mods - Catback
Boost - Stock
I noticed a rattle on cold start and took it in to the dealer. It was confirmed to be wastegate rattle, and they are replacing both turbos.
----------------
Chadwide
2016
16k miles
Both turbos replaced and then replaced again later on.
Stock, no mods.
------------------
Olivier-R
2017 Infiniti Q50 Sport, Whistling noise at 13K miles. Both turbo replaced.
--------------
Q50luvr
2018 Q50S, both turbos replaced under warranty at 20,000 miles.
-------------------
johnstch
2017
Both
None
Stock
22k
Symptoms:
Rattle at startup (assumed this was normal)
Coolant loss
If it wasn't for the latter, I never would have known.
Had to go back and forth with the dealer about it and bring it back multiple
times. They have had the car for a cumulative of 48 days (most of which they were "pressure testing" or "replacing coolant overflow bottle"). If you're noticing any sarcasm, it's just hiding my anger.
----------------
Year - 2019 Q50 RS
Miles when replaced - ~18k
One or both turbos - Both
Mods - None, aside from the JB4 I ran for about a year; Map 1/2
Boost - Running JB4 initially ~18psi, more recently stock boost.
Symptoms-
Hesitation when accelerating, lack of power from ~2500k-4000k rpm
Sound of rushing air into cabin on passenger side
More recently squeeling/whistling on passenger side.
Tech said passenger turbo bearings have failed, saw oil around both turbos. Although the amount of oil wasn't drastic he'd request for both to be replaced.
-------------------
MarkC-Q50SS
Miles when replaced: 67,000
One or both turbos: both turbos
Mods: LDP, resonated rev9 CBE with muffler delete, drop in k&n filter (dry)
Boost: stock
Symptoms: rattling on cold start, smell of burning coolant periodically when driving.
-----------
Syeghyayan23
2019 q50 3.0t Luxe
-1st time @5000 miles turbo seal smoke frome exhaust so replaced engine long block 2 turbos etc....not the catalytic converters .....
-2nd time 5000 miles one turbo I think is bad loud whining noise no smoke car still drives....
-----------
PanicRev
Year-2016 q50 silver sport
Miles-55,000
Mods-Jb4, axle back.
Warranty-$7775 bank 1-2 turbos
Loud whistling,lack of power. Infiniti unable to "replicate". Took photos and discovered cracked compressor wheels on both sides. Car still feels gutless compared to my loaner but ill start diagnosing stuff little by little
---------------
Infinitiq502016
2016 q50 3.0 premium
61,850 miles
Mods: Jb4 with AMS LDP's, fI catback exhaust, AMS cold air intake, AMS H/E, add w1 catch can
Symptoms: JB4 registers turbo #1 at 16PSI while turbo #2 will be pushing 14.6 PSI (turbo leak?). On cold starts a rattling sound will happen everytime, I assume to be bad wastegates, squealing sound under acceleration which I think is serpentine belt, smell of burnt oil when car is parked and running inside the cabin. Also notice loss of power time to time from 1.5kRPM-3kRPM
-----------
Blueboost
2017 q50 3.0t
turbos replaced at 20,000.
-------
Cj_iridiumSS
Year - 2017 Q50S
Miles - 54k
Mods - None yet
Took my car in for some recall work that hadn't been done yet (got the car a few months ago). I mentioned that there's a whining noise around 2.5k rpm.
---------------------------
Batell
2017 Q50S
41,200 miles
Both turbos
JB4, AMS CAI, FI 2.5in CBE, AMS 3in LDP
Power loss, poor fuel mileage, slight squeal at idle despite having the belt replaced
-------------------
NikonGuy
Year - 2017
Miles when replaced - 27.5K
One or both turbos - Both
Mods - None
Boost - Stock
Symptoms- Car was whistling from day of purchase. Took it to dealership first week and they stated everything was ok. Took it back a few months later and they approved turbo replacement. Car actually drove fine, power boost was good. No oil or coolant loss - although WP was replaced during first visit so who knows if that was the culprit.
----------
JsQ50
Year- 2017 Q50S
Miles- 41,000
Both turbos
Mods- Jb4, Ldp
Boost- 18 psi
Symptoms- noticed a rattle on startup and high rpm I also noticed blue smoke on startups before I took it in. Started loosing power and mpg. Dealer noted both turbos were leaking oil upon inspection. Everything covered under warranty.
------------
TheNewGuy
2017 Infiniti Q50 Signature Edition
35,070 miles
Mods: FDP, Invidia Gemini Catback, Dropbox K&N filters, GTR plugs, Catch Can, Turbo Veeport Pro BOVs, PRERacing tuned and upgraded braking system, standard tuners license on the PCM. Factory Freak with starting horsepower over 410.
Both turbos, heard a rattling in the morning during start up, rattle at throttle, whine, "before catch can" oil in the intake intercooler hoses, heavy carbon build up in the oil, both turbos replaced
-----------
Moose1507
2017 Redsport RWD 46k
LDP, Catback exhaust, Z1 LSD, JB4
Was in my car with it running waiting to go in to work and saw white smoke in my rearview. Took it in to dealer November of 2020 and told them to check turbos. They told me it was probably because the secondary cats were missing I was seeing some extra emissions. I knew they were wrong but they said the turbos were fine. A month ago I heard the squeal at about 2000 rpm upon acceleration and took it back yesterday. Confirmed, 2 blown turbos. Replacing under warranty. Said I should have it back early next week.
_
Acecole
2017 Q60 Premium
49000 miles
Both Turbos
Covered under warranty
purchased car from Carmax and noticed oil leak the next day. Brought the car back to them and they sent the car to Infiniti. Both turbos needed to be replaced along with head gaskets. They also replaced the serpentine belt, and aligned the AC compressor. I really like the car but I may give it back to Carmax since they have a 30 day return policy. The car has been in the shop for 3 weeks after having it for one day. Not a good start.
_
Galactic_Q50
2017 Infiniti Q50 3.0t AWD
58k miles
both turbos replaced in June under warranty.
Took off intakes to measure to make a boost leak tester and saw oil in the turbos and had a slight rattle on startup that only lasted for like 1-2 seconds.
-----------------
'17q50jay
2017 q50 3.0t rwd
40k miles
Replaced both turbos late may 2021
Felt loss of boost 2 days after 1st turbos being replaced took car in for service 1,300 miles after both turbos and I just got a call from the service director of Infiniti telling me both turbos and leaking oil and need to be replaced again
_
Greek_VR30
2019 Q60 Luxe
18k miles, jb4 (map 1 or 2)
Both turbos replaced under warranty
I started hearing some whistling/whining noises starting around ~3k-4k rpm upon acceleration, it was quite quiet though and still drove/accelerated perfectly fine. I took it to the dealer explaining my suspicion and I received a call in the coming days stating both turbos are going to be replaced due to "internal failure" along with the drive belt and belt fan. I've got the car back now and it no longer whistles like it before did upon acceleration.
------
C47v3770
Previous 2018 Sport lease - both turbos replaced at ~34K miles.
Could hear "whistling" noise during acceleration
Disclaimer: I did oil changes every 10k miles and drove in the Texas heat
Current 2018 Luxe - first turbo replaced at 11,500 miles. Second one at ~12,400 miles.
Still hear a slight whistling noise when I rev to 3-4K RPMs while parked but I'm over it, will keep driving since I have I bought an extended warranty.
First oil change was done at 8.6K by first owner.
---------
Time4tini
2016 3.0T Premium
50,000
Both Turbo's replaced, July 2021
Symptom, belt screech at 3.5k RPM, I assumed it was the infamous accessory belt issue, after dealer gave me priced, decided to do myself. They said it could be the Turbo's and bring it in. I still hear the screech at 3k~4K RPM, I assumed and correct me if i'm wrong, the belt, etc. would have to be replaced during this fix?!?!
____
Iwantaq50
2016 RWD premium, bought as a CPO with 17K. Belt and AC was realigned within first month. Started hearing a whining sound under boost (around 3K and up when I step on it) at around 24-25K miles and dealer would dismiss it as normal. With time it grew louder. Finally, last week at 50K miles they replaced both turbos under warranty. I had no issues with power or driveability but noise was there under load. Service adviser also commented on the oiled exhaust tips.
_
Brooksbrooks
Year: 2018
Miles: 34,000
Mods: stock
Boost: stock
Symptoms: When in park, revving the engine I hear a rattle. Thought it was a heat shield. Took it into the dealership. They said one turbo wastegate was bad, also said it was consuming oil. They would only replace one turbo. Car is under warranty. Certified used car bought less then a month ago. Still trying to process how I feel about it.
____
Q50SAdam
Took my 2017 Q50S in yesterday for cold start rattle on the passenger side. They found the driver side also rattles during revving. The service adviser notified me this morning that they will be replacing both.
No engine mods. Only RSR downs and wheel spacers. 27k miles. Purchased the car back in June.
----------
J3remy
Year: 2018
Q50 Sport, purchased as a CPO end of June with 27k miles on it. Didn't notice anything during the test drives, but over 2k miles of driving, the squeal got louder and louder.
Took it in August 20th and mentioned the squealing of the turbos, and they confirmed a day later it needed both turbos replaced under warranty.
---------
PropQ50
2018 q50 signature
36 000 km
Stock
Problem: Whistle turbo
Both turbos remplace september 2021
-------------
Roq50
Model : 2017 q60 premium
Miles: 35,000
Mods: LDP, HX, Axle back, JB4
turbos: Both
Symptoms: saw white smoke coming out the exhaust. Also was hearing a whistle when accelerating. Getting both turbos replaced. Car was running perfectly fine. But hey free turbos I guess.
---------------
n1ck!
2018
49632
Unknown which turbos (if any) are affected
Stillen intake and exhaust, Race Chip GTS
Stock boost
When changing the stock exhaust to the Stillen, oil noted in exhaust pipe. Turbo lag was also noted on several occasions.
Took the vehicle into the dealer 11/27 to have several other issues checked - for a sputtering issue under hard acceleration and corner exit; fuel gage may be inaccurate as well.
-------
Nickdaria
2016 Q50 Premium AWD
Both turbos
Warranty covered
41,000 miles
---------
2xiste
Year - 2018 Q50 Luxe
Miles when replaced - 48,800
One or both turbos - Both
Mods - None
Boost - Stock
Oil in the turbos and had a slight rattle on startup
------------
Rustbeltiridium
Year: 2018 q50s
Miles when replaced: 41000
One or both turbos: Both
Mods: none
Boost: stock
Symptoms: Started hearing slight whistling at about 2.5k rpm and up under moderate to heavy load. No notable power loss. Checked and found small amount of oil on intake side of both turbos. Confirmed by tech. Dealer replacing under warranty without issue.
----------
Srd555
Year: 2018 Q50 Redsport
Miles when replaced: 39220
One or both turbos: Both
Mods: None
Boost: Stock
Oil weight: 0-20W syntretic
Oil change interval: 10K (What they recommended)
Symptoms:
Around 30K miles I noticed a slight squeal/whistle?? between 2.7k - 3K RPMs under load and when the engine was hot. Around the same time I noticed on cold start I had a rattle from under the car for 1/2 a second (My Friend had a BMW and said it sounded like when his wastegate actuator went bad). No power loss, no detectable leaks.
-------------
BlaQBetty
Year: 2018 Q50 Redsport
Miles when replaced: 42,000ish
One or both turbos: Both
Mods: BOVs
Boost: Stock
Oil weight: 0-20W syntretic
Oil change interval: 5k
Symptoms: found thin layer of oil in both ic couplers when I installed bov's. Led to wastegate rattle and whining. Both turbos replaced.
----------
Darren Lewis
Year: 2018
Miles when replaced: 52k
One or both turbos: Both
Mods: AMS LDP, AMS CAI, JB4
Boost: 17 PSI
Oil weight: 0W-20
Oil change interval: 5k
Symptoms: I heard a whistle coming from the turbo when doing a WOT pull one day. Once it began, I could replicate it every time I got into higher boost. I took it to my dealership who at first stated only one turbo needed replaced, but they ended up coming back and agreed to do both so they didn't have to go back in and replace the other one in the future.
-------------
Farrell
2019 Q50 Signature Edition 3.0 RWD
24k
Both, from what I have been told
No mods
Stock boost
Manufacture/dealer supplied oil
Changed every 9~10k per Carfax history
Whistling under boost
--------------
Jystanfi
Year: 2018
Miles when replaced: 40k
One or both turbos: Both
Mods: Stock
Boost: Stock
Oil weight: 0W-20
Oil change interval: 5k
Symptoms: After driving for 20 miles on the freeway at a stop light would blow white smoke. Took to Nissan dealer they did not see it, i asked them to keep checking after 3 days they saw it and said Turbos were bad, but since it will be under manuf warranty have to take to Infiniti dealer. They replaced both turbos, water pump and window switches.
--------
Blue400r
2016 q50 rs 74k
Leaking turbos, replaced along with motor under warranty.
------------
Chuckie311
2019 LUX
AMS Intakes
F.I. Full Down Pipes with GESI catalytic converter
F.I Cat back
AMS Heat Exchanger
Auxiliary Intercooler Coolant Expansion
HKS BOV
Mileage 12,850
Driver side turbo leaking oil 16psi ECUTEK Tune
Dealer tried to deny coverage due to aftermarket parts but service advisor called Infiniti corporate and they were told to replace turbo.
----------
xBlitzkeigx
2017
54,500 miles
Both turbos replaced
LDPs for about 2 months. aFe drop ins
Stock boost
0w20 Mobil 1 EP
5K OCI
Symptoms started off with excessive (imo, even for a DI engine) soot build up on bumper. This occurred from day one of ownership but I wrote it off as normal DI soot. It progressed in to actual small particles of oil accumulation. It also had the beginning stages of wastegate rattle but it was so minor, I don't think I could have successfully argued in favor of it.
It then progressed to light blue smoke at idle after 15+ minute drives. Shortly after, I began to hear what can only be described as a dentist's drill sound under boost when above 2500rpm at engine engine load.
----------
Darien87
2018 Luxe
Replaced at 34,000 miles
Just the drivers side turbo
No engine mods other than K&N filters
Noticed loud "air flapping" noise coming from the engine. Sounded like an exhaust leak. Noise was especially loud at start up and then would settle down a bit but was constantly audible. Very noticable when revving the engine. Also would get an exhaust smell from the A/C when first turning it on.
--------------------------
Ccenteno
2018 3.0t
40000 miles
Passenger side turbo replaced
JB4 for about 3 months. PLM HE. AMS intake.
Symptoms. I noticed oil in both turbo inlets when installing the AMS intake. Infiniti decided to only replaced the passenger side. They claimed that the drivers side is fine, but I doubt it since there shouldn't be any oil in the intake pipe.
----------------------
youloze
Year - 2018
Miles when replaced - 35k
One or both turbos - Both
Mods - Stock
Boost - Stock
Oil weight - OEM
Oil change interval - 5K miles
Dealer replaced both turbos without hesitation. I requested the tech go on a ride along with me to hear them, but he wasn't concerned about fighting to get them replaced. Also replaced the drive belt and water pump since it has a small weep.
-------------
Bwcchus_Plateau
58k miles
Noise under boost. Found stuck turbine wheels and bearing material in engine oil.
New motor and turbos.
-----------
IridiumRS400
2017 Q60 Red Sport AWD
33,500 miles
Both turbos (& engine)
Ecutek 1.3 bar map
5W30 Valvoline ME & Over-sized OEM oil filter
4-5k OCIs (Note: Most recent UOA showed no elevated wear metals)
Whistle under boost about a month or so ago. Compressor blades touching the housing.
----------
RobertB
My 2017 Premium has only 44K miles.
My right side wastegate has been noisy at startup since I got the car last year.
I started to hear some whine around September. I used my borescope to check for
oil on the input side. I saw oil pooling in the right turbo. I didn't see much in the left turbo.
Both turbos replaced.
-------------------
heynow
2017 Lease- By the time i gave it back (with about 25Kmiles), both turbos were whistling & wastegates rattled upon start-up.
Since Oct 10th, i'm a lucky owner of a mid-2019 Q50s.
Before i took delivery, the car had both turbos replaced, as well as the water pump.
The mileage was about 26Kmiles.
--------------
killerian101
2017 Q 3.0t AWD 97,500 miles Getting both turbos replaced for the first time under extended warranty I check my oil and coolant levels about once every 3 days, haven't noticed anything yet but the turbos are screaming(literally) for replacement.
--------------
Cbizsoftbn1
2018 Q50S
42,000
both turbos replaced
No mods
Stock Boost
0W-20 synthetic
10,000 mi. intervals on oil changes
-------------
veloboy853
Year - 2019
Miles when replaced - 34,575
One or both turbos - both
Mods - AMS HE
Boost - Stock
Oil weight - 0W-20 SYN (Mobil 1)
Oil Change Interval - 7,500