Discussion Starter
·
#1
·
If you wish to sell your product on this forum, you are required to register as a vendor with an Admin.
Hello, dear members of Infiniti forum!
Our "Xanavi" company working with multimedia equipment of Nissan and Infiniti cars and our the most popular service is the full multimedia adaptation (Conversion to English language, installing navi maps, configuring the radio etc), using original Nissan/Infiniti equipment. I think you have already seen at least one of our work.
You can read our feedbacks on eBay:
Feedback Profile
This is the best way for saving original car interior and have a maximum performance and enjoy using your multimedia.
Now we wanna offer you an adaptation for Infiniti Intouch system.
If you bought Infiniti car with Intouch multimedia system which has US navi data and US radio but you live in US we can help you
Genuine parts reprogrammed and completely tested.
The service for Infiniti owners who imported their car from United States to Europe and want to get maximum performance of navigation and entertainment systems.
You will get map data of Europe, European languages and fixed radio station frequency sequence. Everything will be like in European Infiniti Intouch system.
The Kit consist of:
1) Display
2) AV control unit (radio)
3) Navi control unit (if equipped Navi system)
4) SD card with map data
We accept exchange non-programmed equipment. So you can send your parts to us and get 600 USD refund.
How to buy:
1) Write us "InfinitiForum" in private messages on eBay and we will offer you 10% lower price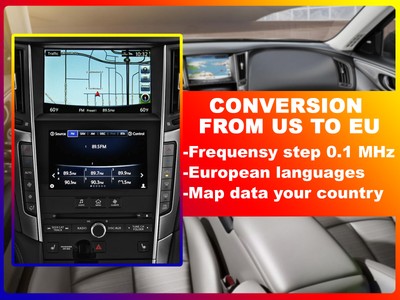 (1) Display. The Kit consist of 4) SD card with map data.
2) We can offer you 20% discount but if you buy it directly with PayPal paying, if you want to do this contact me via WhatsApp or e-mail
3) Also we are open for partnerships, if you are a car dealer or car service etc, for you we will offer a dealer price, please contact via WhatsApp or e-mail and write which cars do you deal
We will give you a 1 year guarantee and we will always be ready to provide you with technical support
Contacts:
WhatsApp: +37255562274
e-Mail:
[email protected]