I'm not going to pretend to be an expert in all things catch can related, but I've read enough to be educated on the subject. The more I've researched, the more I've found running an oil catch can (OCC) is warranted for a Gasoline Direct Injection (GDI) vehicle.
?????? ?? ?????????:
In port fuel injection, fuel is sprayed across the intake ports, which cleans oil off the valves. However, in a GDI system, fuel is sprayed directly into the combustion chamber. Hence, any contaminants accumulating on the ports/valves or in the intake tract are not cleaned by simply getting on the skinny pedal. In fact, spirited driving is going to amplify the issue, as it will create more pressure and in turn create more oil vapor. All of the oil vapor being recirculated is going to travel through the intake, and because of condensation and friction about the intake/vapor interfaces, will end up gunking up your intake valves and manifold. So, to prevent this "blow-by" vapor to accumulate in the intake tract, the vapor must be condensed and stored before it gets to the intake... AND THIS is where the catch can comes in.
From the Positive Crankcase Ventilation valve or the Breather Hose to the intake are hoses where all this vapor travels through. Placing an area for that vapor to accumulate is what you'll be doing.
In comes the OCC. You can do a few different things. I ordered one OCC, but because of the size limitations of the Q50 engine bay, I was unable to install it. I then purchased a cheap ebay 400mL OCC. But the moment I got to actually looking at it, I realized this was going to leak and be an all-around headache. Additionally, there was no access to the internals of the OCC, and since it was not baffled (because it was a cheap eBay POS) and it didn't have a way to put a filter material in, it wouldn't really do a good job at condensing oil vapor.
This brings me to the different designs. You can either use a baffled OCC (which is what I will be installing in the next post I am reserving on this thread), or you can create a "heat sink" in an empty cheap canister which will essentially do the same thing, which I will discuss now.
?? ??? ??? ????? ????! ?? ?? ??? ??? ???? ????? as a stainless steel scrub pad.
So there's two ways I know of to accomplish a functional OCC design.
First, you can go down and get an air compressor filter from Home Depot/Lowe's/True Value/Harbor Freight, some hose, and some barbed fittings to put it all together (most cost effective).
Or, I personally like a little bling, so you can also get an eBay OCC. These OCCs come without baffling, so we need a material to act as a heat sink to condensate the vapor for collection. In this case, you can place a stainless steel scrub pad between the inlet and outlet of the OCC. The oil vapor will drop in temperature when it comes in contact with the cooler steel mesh and condensate into the OCC. If you're worried about sucking bits of the stainless steel pad into your intake, simply put a check-valve fitted with a stainless steel screen material inline between the OCC and the intake. After a couple of years of running this type of setup, I am not slightly concerned about this... but you may choose to be more cautious. The one I saw on the first search actually comes with the stainless steel scrub pad as a "filter" which is exactly what it does.
DO NOT USE STEEL WOOL! It is not the same thing.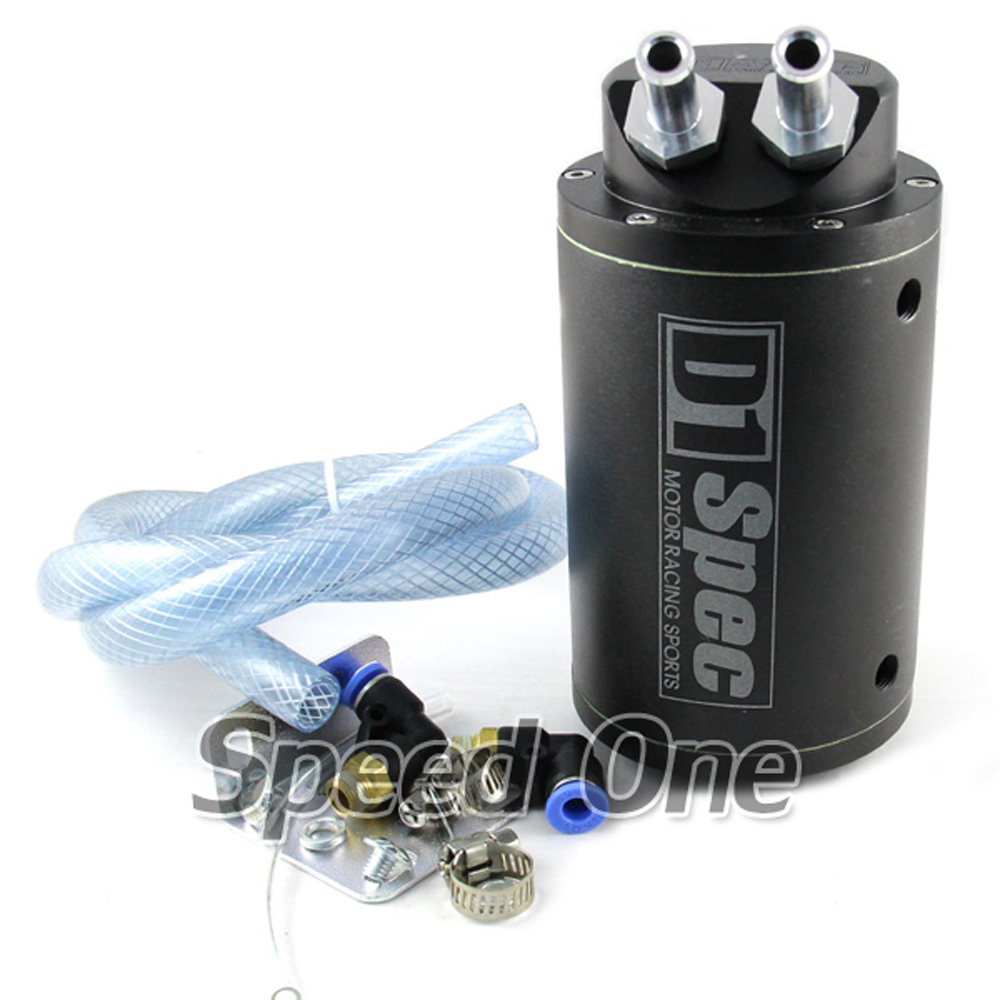 The biggest thing about the OCC is making sure you empty it at oil change or periodically between. If it gets full, where do you think that oil will end up? I'll give you a hint, not where you want it to go... XD
Additionally, this is a good place to check for contaminants in your oil. If you see metal flakes, excessive dirt, fuel, water, bunnies, whatdafukeva. If you have things that shouldn't be in your oil, then your next step is to figure out why, or take it to the dealer and say, "My oil sparkles like an 18 year old Vegas hooker."
For you engineer/physics nerds, if you care to see the math behind running an OCC:
Excellent PDF for OCC efficiency
Journal article on the condensation of a vapor
Local parts were mildly difficult to locate, so I have used the best of a limiting situation and what NAPA/Home Depot/True Value had to offer. The correct parts are on order, but I really wanted to get this together to test the functionality. If you go the same route I did, and don't buy parts that you are going to end up not using (this is how 75 year old men have every fucking part you could ever want in their garage):